Without a supporting analytics platform, teams and managers will rapidly have no idea how many customer queries they get, how long they take to answer, or, indeed, if they have answered them at all. Things can get messy fast.
Social media analytics: The complete guide
The heart of social media analytics is the gathering and analyzing of marketing and audience data to inform business decisions. It's the only sure way to access insights that you can use to optimize your marketing efforts, and even product strategy.
Social media analytics is the gathering and analysis of data points from social media networks to help inform your social media strategy and optimize engagement around your organic and paid social media efforts.
Social media analytics software is critical because it can answer every single one of the aforementioned questions. With the right software, a single platform can answer all of these questions for every social channel in an easy-to-understand way – no complex data analysis, just a clear presentation of what's working, and how you can fix what's not.
This all heralds back to a truth that all marketers understand: without measuring and analyzing your content and its performance, there's no sustainable way to improve your results, or even put your results in the proper context needed to understand if they are good or bad.
Social media marketers need a data-driven roadmap to signpost the path ahead so they know where to go and what to do – this is what every social media analytics solution aims to provide, to varying degrees of success.
These 10 social media analytics tools can help you track your social presence
1. Sprout Social
Track Facebook Page impressions, tally up Twitter link clicks, measure Instagram follower growth, evaluate LinkedIn engagement, asses content performance on Pinterest and much more, all from the same location.
Then quickly organize and share your data with easy-to-understand, presentation-ready reports. Or take it a step further with Premium Analytics and create your own custom report, tailored to your organization's KPIs.
Sprout comes complete with both templated and customizable reporting options, meaning you have multiple ways to not only gather essential social metrics, but truly understand what they mean and present them to others including only the metrics you care about most and reducing the noise.
From tags to trends and everything in between, Sprout puts powerful analytics at your fingertips. You can even access data related to internal team performance and competitor activity to help you improve customer care or benchmark your brand against others in your industry.
2. HubSpot
With HubSpot's analytics tools you can tie social media performance to business and revenue growth. Whether publishing directly through HubSpot, or publishing using other tools or while on the go, you'll be able to report on the success of your social strategy across every channel. You can also compare the performance of multiple social channels to measure campaign performance.
What's important to highlight is that HubSpot's social analytics tools is part of HubSpot's Marking Hub, their all-in-one inbound marketing software. This means that using the platform you'll have insight into the entire customer journey, not only social media-specific metrics. You'll be able to see which marketing tactics are working best for your business, how are they impacting your bottom line, and learn about your social media campaigns ROI.
3. TapInfluence
Enter TapInfluence, an analytics platform which removes many of the "what-ifs" related to influencer marketing. This includes metrics such as reach, engagement rate and the potential price tag behind any given influencer.
4. BuzzSumo
If you want to see how many shares your latest blog post received on Facebook, Twitter or Pinterest, BuzzSumo can provide you with that data. You can also monitor the performance of content competing for relevant industry keywords, allowing you to see how your content marketing campaigns are stacking up against the competition.
Social media remains one of the top distribution channels for content. By analyzing social shares, you can see which types of posts receive the most engagement and use that data to inform your own content strategy. BuzzSumo can also help you understand variables in top-performing content such as length, publish date and headline type.
5. Snaplytics
Snaplytics focuses solely on analytics for Snapchat and Instagram Stories. The platform looks at metrics such as open and completion rate, allowing brands to see where story engagement peaks and likewise at what point viewers drop off.
6. Curalate
Curalate's platform empowers businesses to understand which products score the most clicks and sales. This can directly inform your future campaigns and product strategy as you learn which sort of posts click with customers.
10 of the best social media analytics tools
Social media analytics tool #1: Hootsuite Analytics
Imagine Twitter analytics, Instagram analytics, Facebook analytics, Pinterest analytics, LinkedIn analytics all in one place. Hootsuite Analytics offers a complete picture of all your social media efforts, so you don't have to check each platform individually.
Social posts metrics:
Profile metrics:
Best time to post recommendations:
Ever spend a bunch of time writing and designing a social post only to have it fall completely flat? There could be a lot of reasons for that. But one of the most common reasons this happens is posting at the wrong time. A.k.a. Posting when your target audiences are not online or not interested in engaging with you.
This is why our Best Time to Publish tool is one of the most popular features of Hootsuite Analytics. It looks at your unique historical social media data and recommends the most optimal times to post based on three different goals: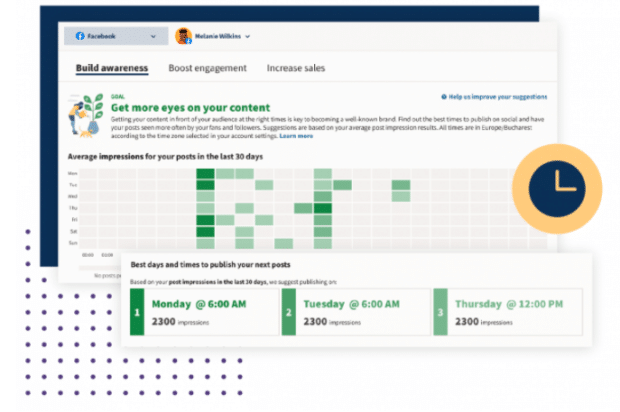 Social media analytics tool #2: Google Analytics
You've probably heard of Google Analytics already. That's because it's one of the best free tools to use to learn about your website visitors. And if you're a social marketer who likes to drive traffic to your website, then it's an invaluable resource to have in your back pocket.

Social media analytics tool #3: UTM parameters

UTM parameters aren't essential if you're only concerned about reporting on social media performance in terms of engagement, followers, etc. But if you want to take it to the next level, UTM parameters + Google Analytics will give you more precise data on which social media content and channels drive traffic and conversions.
Pro tip: You don't need to know how to write code to include them on your social media posts. If you use a social media management platform like Hootsuite, you can automatically generate UTM parameters in seconds.
Social media analytics tool #4: Hootsuite Insights powered by Brandwatch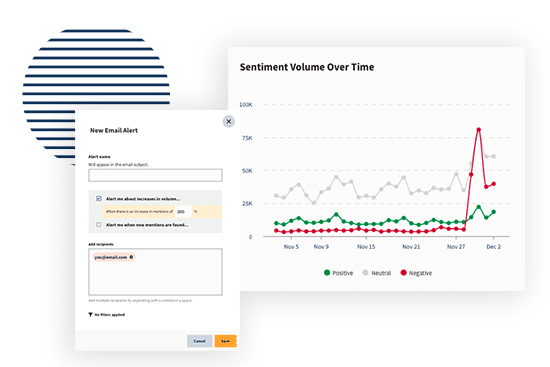 It also analyzes data about your audience demographics like gender, location, and language. You can compare demographics across networks, or look at the aggregate picture of your audience for all networks combined.
This is a tool that really tells you a lot about your audience — and how they feel about you. It can tell you whether a spike in mentions is a victory or a disaster. And it can help you capitalize or avoid either one, respectively.
Social media analytics tool #5: Brandwatch
Social media analytics tool #6: Talkwalker
Social media analytics tool #7: Hootsuite Impact
Hootsuite Impact provides an in-depth look at the performance of your organic and paid social posts. It then compares that performance to specific business goals, like sales and leads generated. Next, it recommends actions to improve your results.
Hootsuite Impact integrates with tools like Google Analytics, Adobe Analytics, and your ad accounts on many differt social platforms. This gives you a full picture of your post and campaign results, all in one place. With organic and paid analytics side-by-side, you don't have to gather data from separate tools to create a social media analytics report.
Instead, you see exactly how much revenue all your social efforts generate, so you can prove your social ROI. Keep in mind that ROI is not only about sales generated. Hootsuite Impact uses a custom ROI formula developed specifically for your business. Seeing which of your efforts have paid off has never been easier.
Then there's the competitive benchmarks. To get the best insights from social analytics, you need to understand how other businesses in your industry compare. Hootsuite Impact shows how your results stack up against your competitors, so you can spot opportunities to improve.
Sources:
https://emplifi.io/resources/blog/social-media-analytics-the-complete-guide
https://sproutsocial.com/insights/social-media-analytics-tools/
https://blog.hootsuite.com/social-media-analytics/
Social media analytics
Like when the COVID-19 pandemic broke out, Chick-fil-A responded immediately by donating $10.8 million to coronavirus relief efforts. And when social unrest broke out earlier this year, they were quick on the ball to reach out on social media to their customers, letting them know they care.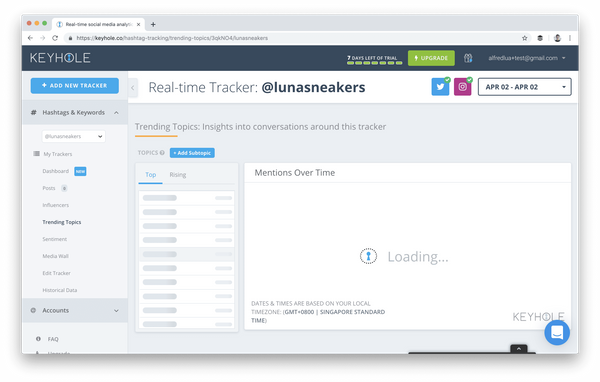 What is Social Media Analytics in 2022?
This type of analysis includes tracking conversations and measuring campaigns. It also involves figuring out how your social activities are influencing your business results. Brands that are best at customer experience often combine social media analytics with customer commentary from surveys, ratings and review sites, call center agent notes, and other customer feedback to get a complete picture of the customer experience.
Companies that are serious about improving customer experience use data from social media analytics tools because they provide a vital view into how consumers really feel about the experience. The insights help them make improvements to the customer journey and guide their business decisions and strategy.
It should be noted that for some people social media analytics is focused on the operational metrics associated with their social media channels. For campaigns and strategies run through social media, it's common that marketing professionals will analyze their social media metrics – focusing on conversion rates, follower counts, and impressions. And whilst this form of analysis is helpful, all it shows is what happened, not why it happened – which is where listening to conversations happening with or about your company on social media can be invaluable.
Why do you need Social Media Analytics?
Social media analysis goes beyond counting likes and shares. Even counting replies, comments and link clicks isn't enough. Although these are important KPIs, deep social media analysis shows you why certain Facebook posts get a lot of engagement, or what people keep Tweeting at you about. It tells you which products are pictured on Instagram more often than others.
It is a glimpse into how your customers actually feel about your company, products, and services. Analyzing social media data can provide insights into product strategy, the customer journey, and brand reputation online. It is not just about the numbers, but rather what's driving those numbers.
And, because social channels are increasingly being used for customer service, social media analytics has become vital for measuring how well you are serving your customers (social customer service). You can examine response times, first contact resolution times, how well bots are resolving concerns, the average handle time, and team performance on KPIs for your customer care agents' interactions with customers over social media and messaging. With more social media users now than ever – more than half the world – using social media to understand your customers' relationship with your brands is vital.
This information allows you to spot trends and make predictions that inform your overall strategy for customer experience and business outcomes. And given that only 43% of businesses have centralized cross-platform analytics, it's something that can help put you ahead of your competitors.
So-Called Synonyms That Aren't
Social Media Intelligence is the closest term-cousin to social media analytics. Social intelligence represents the stack of technology solutions and methods used to monitor social media, including social conversations and emerging trends.
For instance, if you want to know what people in Boston have to say about pizza, you can find out using a tool like NetBase Pro. From there, you can look for additional common ground to create audience segments to make your interactions more personal.
Social monitoring focuses on following social audiences to be alerted to spikes in activity that present either an opportunity you wouldn't want to miss, or a potential disaster you want to avoid. It's about seeing posts like this in time to respond and avoid a viral crisis:
This information allows you to see what your shared audience gets excited about, so you can capitalize on fresh ideas you might never have had yourself. Additionally, it can save the day when things go wrong, or save your own budget by learning from competitors' mistakes.
And as consumer attitudes are never static, brands can also monitor how other brands are handling the social climate to adjust if things are hitting close to home. Earlier this summer Quaker Oats retired its longstanding Aunt Jemima brand out of concern for racial impacts to consumers. Others are paying attention.
Image Analytics is a new feature made possible by the evolution of social media analytics technology. Image analytics levels up text analysis by identifying scenes, facial expressions, geographical locations, brand logos and more in social images. This is especially useful when a brand is pictured, but not explicitly mentioned in the text.
As social users become increasingly visual, the inability to perform image analytics becomes a deal-breaker when researching social media analytics tools. Basically, if you're social media analytics tool isn't picking up images where your brand is pictured, but not explicitly mentioned, then you're missing out on a lot of the conversation.
6 social media analytics dashboards from the social media networks
All of the major social media networks have their own built-in analytics and dashboards that offer some great insights into your activity on the network. Here's how to obtain the data and metrics offered by the social networks themselves.
1. Facebook Insights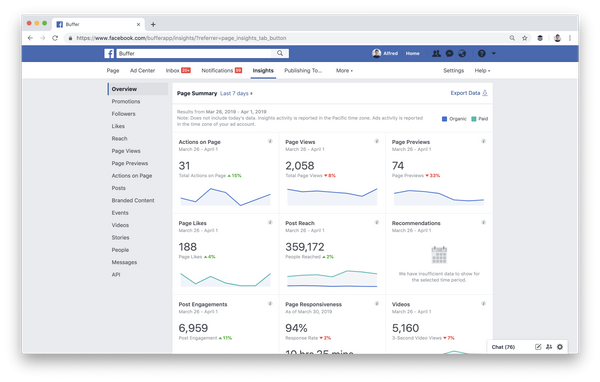 Available for all Page admins, Facebook Insights shows you the full stats behind your posts, your fans, and your reach. Additionally, from the Insights tab, you can set up a list of Pages to Watch, which gives you information on the performance of other Facebook pages.
2. Instagram Insights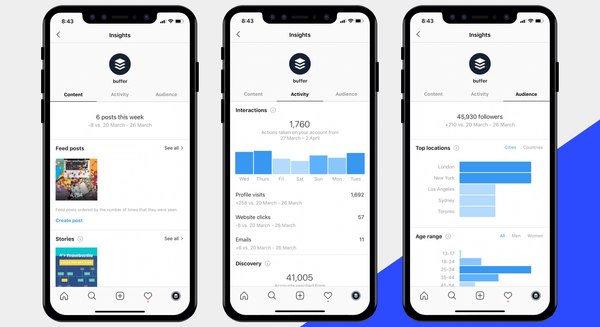 If you have an Instagram Business Profile, you will have access to Instagram Insights — Instagram's native in-app analytics. It offers a comprehensive range of data about your profile, posts, stories, and ads. It also has detailed information about your followers such as their most active times and days.
3. Twitter Analytics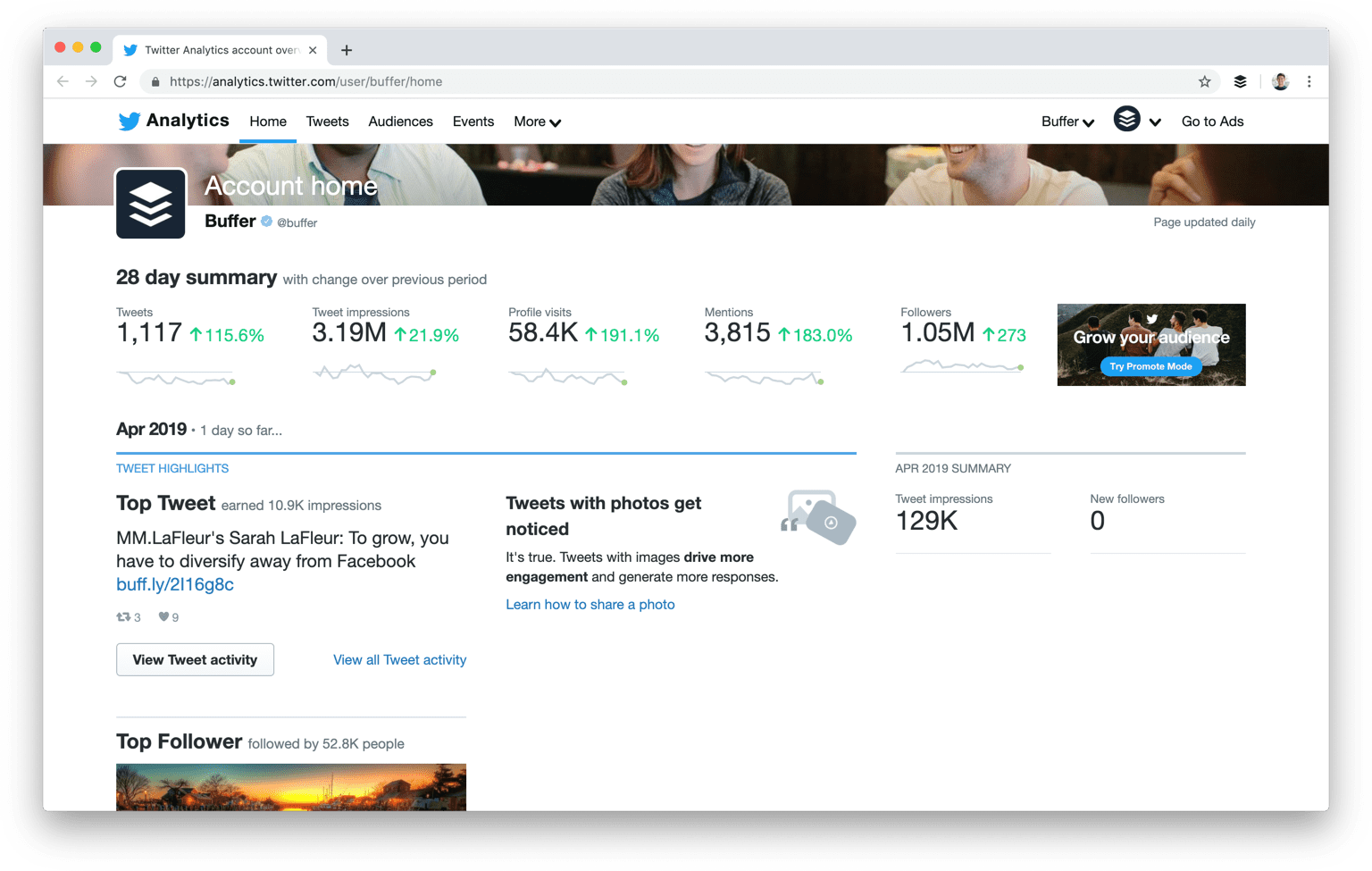 Twitter provides a 28-day summary of your profile and show you how it has performed in terms of profile visits, follower growth, tweet impressions and mentions. It also gives you an analysis of the impressions your tweets are getting, as well as details on engagement, i.e. retweets, mentions, favorites, and clicks. You can export all the data and run some pretty neat reports for yourself.
Quick tip: Clicking on the bar chart icon of any of your tweets will show a complete breakdown of the engagement on the tweet, including clicks on URLs, clicks on your username, clicks on images, and expanded details.
4. Pinterest Analytics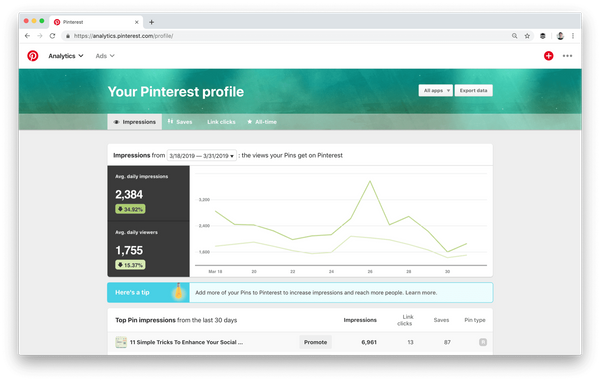 One of the best sources for Pinterest analytics resides on Pinterest itself. The dashboard shows growth in impressions and followers, audience stats, and website engagement. You can click into more in-depth reports for each of these and see which posts and boards have performed the best.
5. LinkedIn Analytics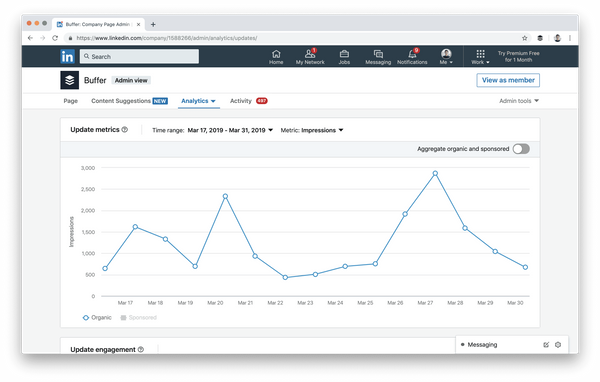 For a Page belonging to your company or organization, you can track engagement with your updates as well as see various metrics about your followers and visitors. If you've enhanced your Page with LinkedIn Career Pages, you also have access to Talent Brand stats.
Quick tip: The Visitor metrics section for your Company Page shows a blue line representing desktop views and an orange line representing mobile views. Toggle the Aggregate mobile and desktop metrics option at the top right to see the combined results.
6. YouTube Analytics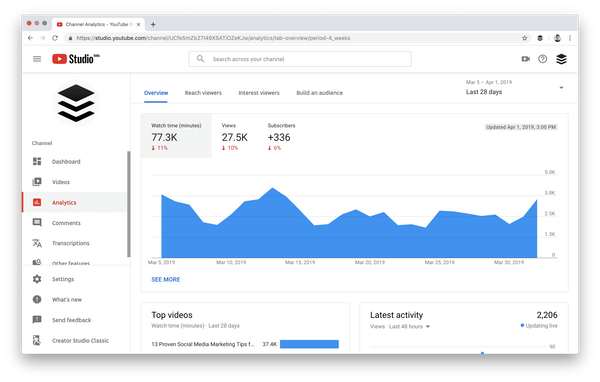 YouTube Analytics is a comprehensive system for tracking the performance of your videos and channels. It reports on a plethora of metrics including estimated traffic sources, watch time, views, earnings, ad performance, audience retention, and subscribers.
Quick tip: Click SEE MORE below the main dashboard and you'll be taken to the detailed channel analytics page. Once there, click More > Playback location to see where people are watching your video – on your YouTube channel page, its regular YouTube URL (watch page), or embedded in another website or app.
Sources:
https://www.qualtrics.com/experience-management/research/social-media-analytics/
https://netbasequid.com/blog/what-is-social-media-analytics-why-is-it-important/
https://buffer.com/library/social-media-analytics-tools/
Social media analytics
Pro: With these three functionalities, you can know exactly where your brand is getting love from, why customers are dissatisfied, and how you can intervene to get more people to love and trust your brand.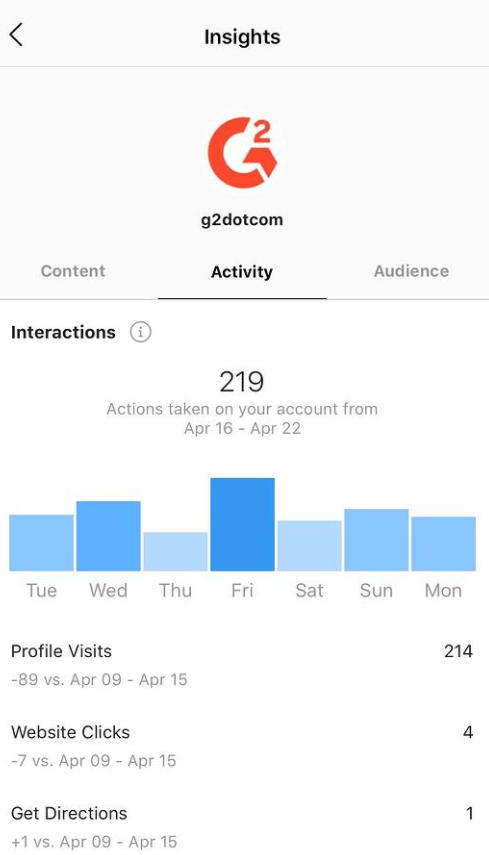 1. Keyhole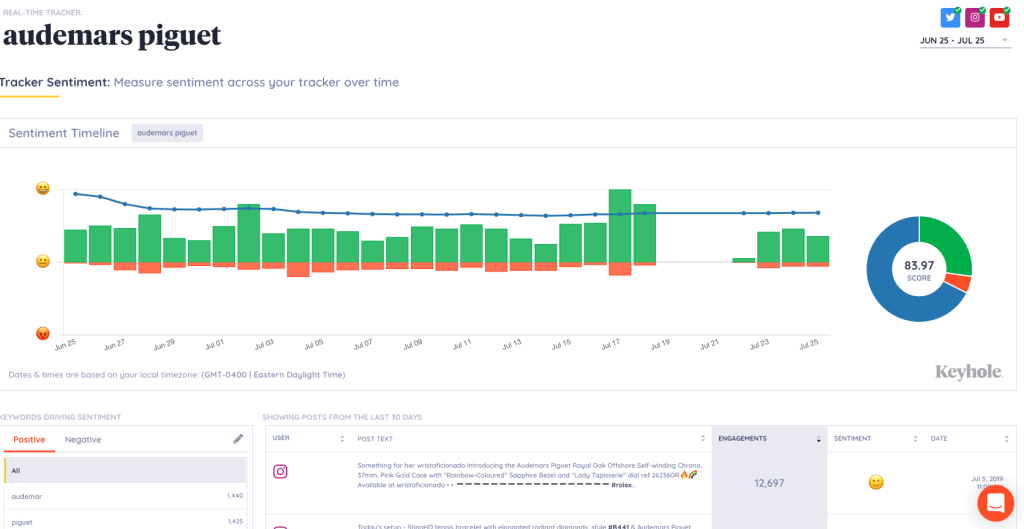 With Keyhole, you get to see the number of impressions, reach, posts, and engagements that certain accounts or hashtags are getting. You are also able to identify key influencers who get the highest engagement rates and the number of followers in specific industries and reach out to them right from the tool.
And if you ever want to know the demographics of your hashtag users or account interactors or followers, Keyhole shows you those as well — including the percentage of positive and negative sentiments of your followers.
Create & share social media reports in minutes. Say goodbye to the spreadsheet.
How To Conduct Social Media Analysis?
It would help if you considered including data that generates money for your client, such as the number of leads, conversions , the total revenue, or ad spend. Of course, feel free to add any further information if you think it's relevant to your campaign or strategy.
When it comes to developing social media monitoring reports , establishing and evaluating the relevant KPIs isn't the only element to consider. Always strive to look at your data from different angles, to examine and filter your data for hidden insights that could help you improve your performance.
The amount and diversity of data generated by your social media initiatives will be significant if you use multiple platforms. This becomes especially difficult to manage when you're tracking multiple platforms, for multiple clients.
Some posts become viral right away, while others take some time to reach the ideal number of impressions. However, the most crucial thing is that you and your clients always stay on top of social media performance metrics.
How to Get Social Media Analytics With Your Own Data?
DashThis is a reporting tool that gathers your social media content and data across multiple platforms in a clear, concise report. With our time-saving dashboards —all templates come with pre-set KPIs, so you don't need to add them manually—you can create your reports in the blink of an eye.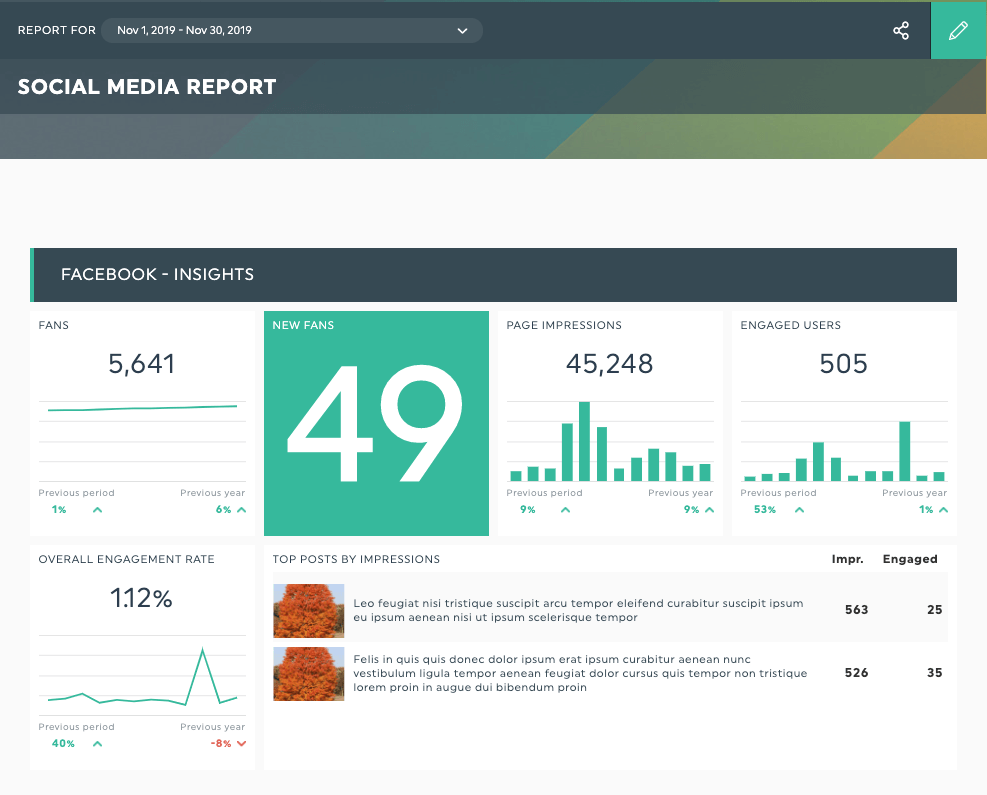 These templates are highly customizable and convenient for daily, weekly, monthly, and quarterly use . Add notes for report benchmarking, display Instagram images directly within the reports (no more copy-paste!), or customize it with your client's brand colors—DashThis can do it all.
You'll see how easy it is to create your social media analytics report only once and save it for future use. Use it together with any of the social media management tool above and save more time for your marketing teams.
Sources:
https://keyhole.co/blog/social-media-analytics-tools/
https://whatagraph.com/blog/articles/social-media-analytics-report
https://dashthis.com/blog/social-media-analytics-reports-guide/